The Saraband Simpson - a deluxe edition of The Division Viol and more!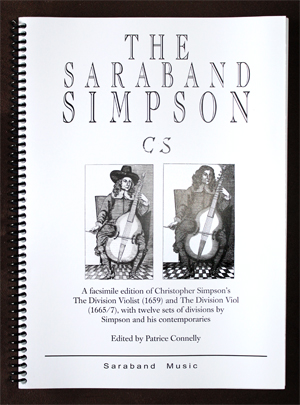 The Saraband Simpson is a new edition (July 2009), using the Royal College of Music's copy of The Division Violist and its divisions, with the British Library's copy of The Division Viol. Added to this is a new introduction (with references) written by Patrice Connelly, and a newly edited collection of divisions, many of which came from seventeenth century copies of Simpson as handwritten addenda to the owner's cherished copy. A majority of these divisions came from the Bodleian Library in Oxford, but the RCM copy was also used. These divisions also come with a critical commentary. A brief note is included about the process of cleaning the facsimiles and some interesting markings in the RCM Division Violist.
As the old Dolmetsch edition (first published in the 1950s and reprinted later by Curwen) has been out of print for some time, and because the gamba-playing community has matured in many ways over the last thirty to forty years, it was felt that a new concept of making Simpson available to players was needed. While a facsimile of The Division Violist is available, most players will not buy both, and as such, miss out on the subtle changes in technique that are notable when one compares the two editions. The addition of extra divisions at the back makes this edition even more valuable, as the player can compare divisions by Jenkins, Facy, Roger L'Estrange, Farmelo and Anon with those of Simpson. Most of these divisions had not previously been published in a modern edition. The division set by Hugh Facy also uses the same e minor ground as in Simpson's treatise.
A practical player's edition was the intention, and this is aided by strong wire binding so that the book opens out flat on the music stand or table. In order to lower the weight of the book, The Division Violist has been reduced in size by 50%. The whole edition has been produced with care and attention to detail.
Grateful thanks go to the Royal College of Music and the Bodleian Library for the free use of their manuscripts and books from their collection. The Division Viol is (c) The British Library Board and is reproduced under licence.
$50 plus postage (A$55.00 inc. GST within Australia, plus postage). This book weighs approx. 530g (over 2lb), so will be sent at parcel rate within Australia and overseas.
Click here for information about ordering.